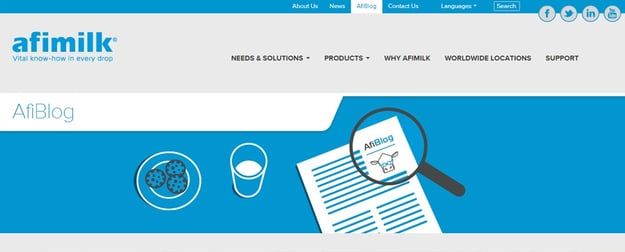 I'll be honest: When I started working on a project to develop a six-month content strategy for Afimilk, I briefly felt like when I was a student in English class instructed to write about whatever I wanted, as long as it filled the page. When teachers told me to do that, I often sat there stumped for ideas, whereas when they told us to write about something very specific, it was a lot easier. Following a framework made the whole process of writing so much smoother.
Developing a content strategy for a B2B blog also involves following a specific framework - insuring that the whole process of brainstorming, writing, and meeting your company's goals runs much more smoothly.
I wanted to share with you exactly how we developed Afimilk's six month content marketing strategy for their blog, most of which you'll need to follow before even setting a digital pen to paper.
Step 1: Decide on Your Goals for Your B2B Company Blog
The first step to develop a content strategy for your B2B blog is to decide what you'd like to achieve with it. That means before you even start writing or brainstorming you'll need to talk with the powers that be (generally higher level marketing and preferably sales) to decide what the point of this blog should be.
Let me shed some light on what most companies use their blog for. Typically, a B2B company blog is a top of the funnel content marketing tool, helping to create awareness of your product. That means it won't necessarily be bringing you customers directly. Your blog is simply one of many touchpoints in the B2B marketing funnel your customers need to consume before contacting your sales team.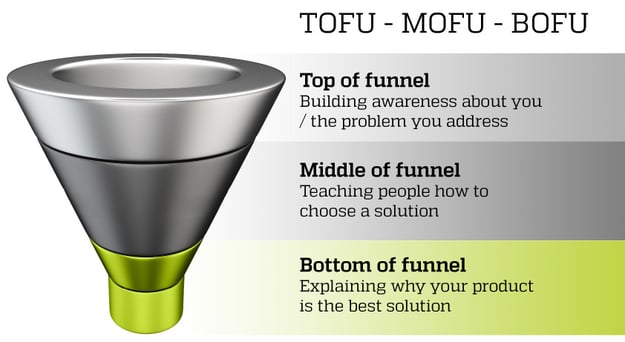 http://blog.topohq.com/sales-and-marketing-alignment-best-practices-for-building-a-revenue-machine
Within this broader goal of creating awareness at the top of the marketing funnel are a set of smaller, more concrete goals that are easier to measure. Maybe you'll want to strengthen your blog's ranking for certain keywords or increase traffic to your site. Maybe you'll want to start to get the attention of influencers in your field and generate demand for your product. Or maybe you'll want to increase engagement in your social media channels and website. You may decide that your goal is some combination of these goals, or something completely different.
In the case of Afimilk, the goals were to increase awareness in the industry for their product. They specifically wanted to increase their rankings for certain keywords in their industry.
The goal was that the content would add enough value that it would be read in the industry and shared on social media, which would also help increase SEO rankings: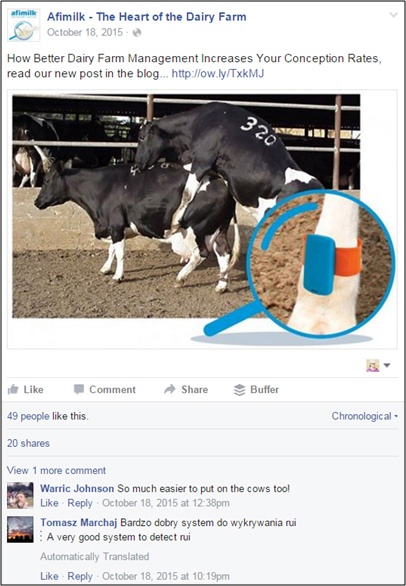 As you can see, we were successful in increasing engagement via the blog posts on social media!
Step 2: Evaluate Your Product's UVP in the Relevant Marketplace
Again, before you start writing or brainstorming, you'll need to understand exactly what your organization contributes in the marketplace that is unique. This is known as your product's Unique Value Proposition (UVP), and understanding this will shape every single piece of content produced by your marketing team, including your blog. You'll begin to use a certain type of vocabulary and even try to coin words in the marketplace to create a distinct image of your brand in contrast with the competition. This is also known as product positioning, and one of the best ways to understand how to position your product would be to research how your competition has positioned (or better yet, hasn't) their product.
In the case of Afimilk, we have already been working with them on their product positioning, and it was apparent in their website and many of their online content. The new messaging was very clear and I was able to ask different subject matter experts about their product positioning to enable a better understanding of Afimilk in the dairy management solutions space. Afimilk's UVP was that it tracks data on every individual cow, allowing enterprise-size dairy farms to manage their herds more efficiently.
Step 3: What are the trends in the field? Who is your audience for the blog?
Now you'll want to see how the UVP of your organization fits into the trends in the marketplace. Spend some time reading some of the industry publications, whether online or in magazine form.
Ask yourself: What are the trends in this industry? Are they emerging trends, or has the industry had the same challenges over a period of time? Who will be reading your blog and what issues concern them?
If possible, talk with the marketing and sales team, as well as subject matter experts so you have a general understanding of the industry as well as who you're trying to influence.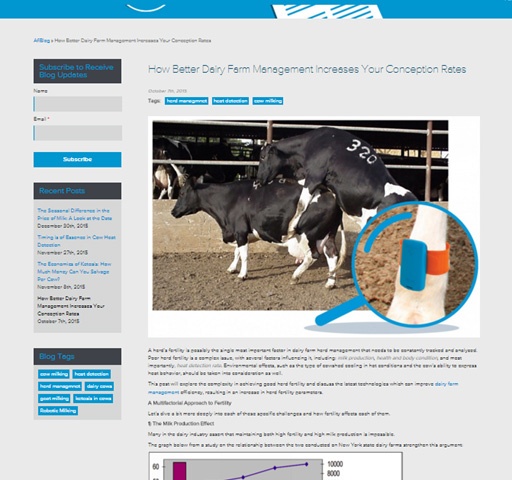 Step 4: What is your audience's pain points and how does your technology solve it?
At this point, you should be able to match between the pain points in the industry and the specific products your organization wants to sell.
After researching the industry and thoroughly reading their website, I understood that the main pain points in the dairy herd management industry were: ketosis (and other metabolic diseases), maximizing milk production, cow fertility, and farm management.
I saw quite clearly that Afimilk's technology addressed all of these points, although I didn't necessarily understand the technology or the pain points in detail. It didn't matter though, because this was an outline – I'd have plenty of time to delve into each post in detail later.
Step 5: Create a Content Calendar
Once you have those pain points and the technology that solves it, you are ready to draft up a content calendar.
Here is what my content calendar looked like with Afimilk: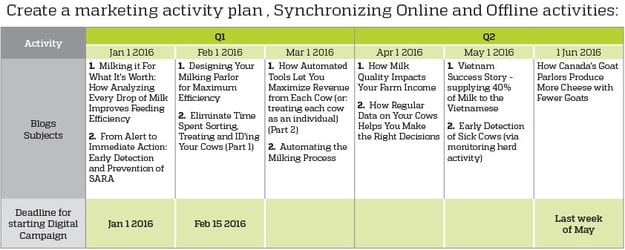 Based on the knowledge I already had on the industry and from the time I spent on the website, I did my best to create exciting titles for each post. I knew we'd change the titles later, but if you're able to create a good catchy title that shows an understanding of the subject matter, you'll both impress the organization's management and remind yourself later on what exactly it is you want to write about in the post.
Ready, Set, Write!
Finally, after following these important steps, you can think about writing an actual blog post. You'll see that each post will be more targeted to your audience, drive more traffic, and impress higher management much more easily than had you just started writing ad hoc pieces week by week. Preparation before writing your company blog posts is essential to provide you with the right road map for your B2B blog strategy.